What Are Workers Comp Foot Injury Settlements?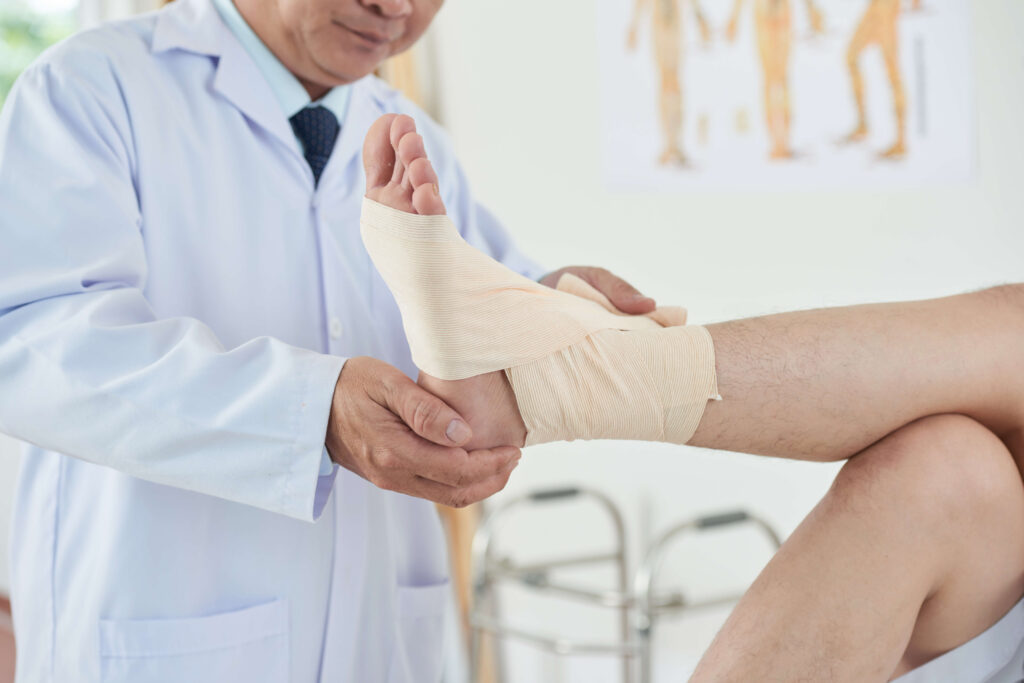 Have you sustained a foot injury at work? Do you have mounting medical bills you are struggling to pay? Call us today or complete the online contact form below to talk with an experienced local attorney who can help you better understand workers comp foot injury settlements.
Whether you work in an office, warehouse, factory or anywhere else, you probably use your feet every day. Depending on the type of job you do, your feet may also be critical for performing your job duties. Either way, a sudden foot injury may make working virtually impossible.
If you have sustained a job-related foot injury, you may be eligible for workers' compensation benefits. Insurance companies regularly approve workers comp foot injury settlements for injured workers. Foot injury compensation payouts usually depend on the severity of the injury and its life and employment implications.
Common Work-Related Foot Injuries
While some workplaces are more dangerous than others, any job site may have risks for your feet. The following injuries are not exactly rare in workplaces across the country:
Crushed or Broken Bones
A crushed or broken bone is possible anytime your foot encounters a heavy object. If you work with heavy equipment, such as a forklift or processor, you may be even more vulnerable to these injuries.
If you have a serious foot fracture, you may require surgery. Even then, you may have mobility challenges and other issues after suffering crushed or broken foot bones in the feet.
Amputated Ankles, Feet or Toes
In the workplace, ankle, foot and toe amputations usually occur after lower extremities become entrapped or entangled in equipment. A serious fracture may also result in limb amputation. Furthermore, if you acquire certain occupational illnesses, doctors may have little choice but to amputate your ankles, feet or toes.
Skin Damage
Many workplaces expose employees to toxic chemicals that can damage human skin. Likewise, repeated exposure to humidity or the elements may cause you to develop a skin condition on your feet.
Soft Tissue Injuries
Your feet have muscles, tendons and other soft tissues that are vulnerable to injury. Regardless of your job duties, you may suffer a strain, tear, sprain or another type of soft tissue injury at work. While many soft tissue injuries resolve without much medical intervention, others require surgery or other invasive procedures.
Repetitive Stress Injuries
If your job duties require you to move your feet in the same or similar ways, your lower extremities are prone to repetitive stress injuries. Sometimes called repetitive strain injuries, these injuries often cause pain, tingling or numbness. You may also experience loss of motion or muscular weakness in your feet due to a repetitive stress injury.
Foot-Injury Settlement Amounts
Not all work-related foot injuries are the same, so workers' compensation settlement amounts vary considerably. When determining the value of your settlement, you may need to answer the following questions:
How severe was the injury?

What does the healing process entail?

Do you have new job limitations?

What lifestyle limitations do you have?

Do you have other work-related injuries?
While the amount of your settlement may depend on many different variables, your feet are essential. Accordingly, any foot injury has the potential to affect both your employability and your quality of life. This fact tends to drive foot and ankle injury settlement amounts upward.
The Workers' Compensation Process
Qualifying for workers' compensation benefits often requires following a strict procedure. If you skip any of the following steps, you may receive a lower settlement offer or a denial of your claim:
1. Notification
After sustaining a foot injury at work, you must notify your employer. In fact, telling your supervisor about your injury should be your first post-injury step. Your supervisor may have you complete paperwork. If you do so, ask for a copy. Then, review the injury report for completeness and accuracy.
2. Medical Treatment
After reporting your injury, you should obtain medical treatment as quickly as possible. Your employer may give you a doctor to see or ask you to choose from a list of physicians. In some places, it is possible to see your regular doctor, however.
When you see your worker's compensation doctor, explain that your injury happened at work. Also tell the doctor in detail how the injury affects both your job and your life.
Your doctor may refer you to a specialist or may diagnose and treat your injury personally. Either way, you should follow your physician's orders.
3. Attorney Collaboration
A serious foot injury may change your life forever. Consequently, you probably do not want to leave your workers' compensation benefits to chance. Early in the process, it can be a good idea to talk to an experienced workers' compensation attorney.
4. Investigation
Your employer's insurer may investigate to determine your eligibility for workers' compensation benefits. This investigation may also influence your settlement offer. Before responding to any queries, you may want to consult your attorney.
5. Settlement Offer
How long your employer's insurer has to settle your claim likely depends on state law. In most places, insurance companies must act within a relatively short timeframe. By the end of this period you should receive a settlement offer or a denial.
It is important to read the insurance settlement offer or denial carefully. Because you may be able to appeal a decision that is not favorable to you, you should give your attorney a copy of the settlement or denial before you accept it. Your lawyer may compare your settlement to other foot injury lawsuit settlements and can offer professional advice.
Work With an Experienced Local Lawyer
The workers' compensation system is complex, with many potential obstacles you must overcome. Rather than struggling to manage your claim by yourself, you may choose to work with an experienced local lawyer.
An attorney in your area understands state workers' compensation law. He or she may investigate your claim, negotiate a settlement, file an appeal or otherwise help you assert your legal rights.
Submit a request online or call us today at (866) 345-6784 to get in touch with an experienced lawyer in your area!