Connect with an Experienced Slip and Fall Attorney Near You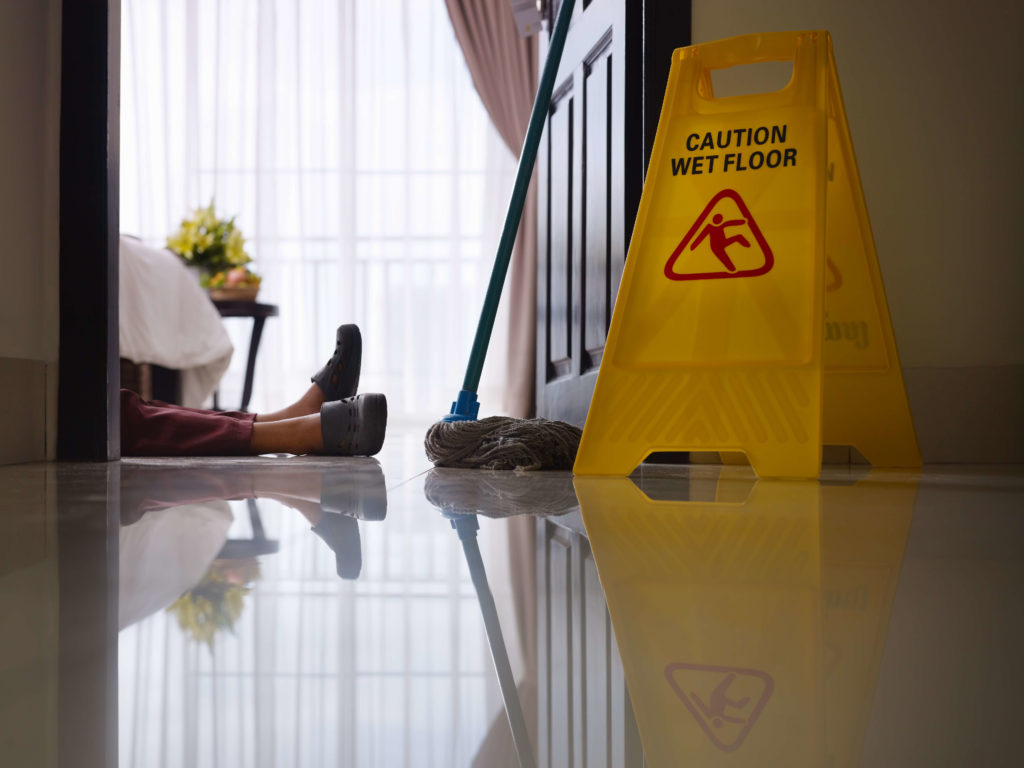 What Is a Slip and Fall Accident?
Slip and fall accidents occur when a person falls on another person's property, resulting in an injury. If you have experienced a slip and fall, you have legal rights that may qualify you for financial compensation. However, winning a slip and fall is not as straightforward as you think.
Whether you desire an insurance settlement or want to file a personal injury lawsuit, you must prove negligence, liability and that you were not at-fault for the accident. Here are two common ways a plaintiff can prove fault in a slip and fall case:
A property owner, or a person who works for the property owner, did not recognize a dangerous situation (such as wet floors or a pothole). They should have removed or repaired the hazard promptly. The key item to prove here is whether a reasonable person would identify the hazard and make the repairs.
A property owner, or a person who works for the owner, caused the hazard (such as leaving debris on the floor or putting cords across a walkway) that led to the slip and fall. If the hazard was reasonably predictable and would likely lead to injury, the victim could prove negligence in the case.
These cases ultimately come down to two things: whether the property owner acted negligently and whether the accident occurred because of negligence. Proving these things is difficult, especially when a property owner tries to blame you for the accident.
It is not uncommon for property owners to say you created the accident yourself because you wanted a big payday. That is why you need a trustworthy and knowledgeable slip and fall attorney on your side to defend your rights and build your case.
Proving Negligence in a Slip and Fall Case
Negligence requires four legal elements. If one of these elements is missing, it cannot be considered negligence in a slip and fall case. Here are the four elements necessary in a slip and fall negligence case:
Duty
The property owner has a duty to maintain a safe environment for people who lawfully enter the property. This means that if a property owner knows about a potentially hazardous environment on her or his property that could lead to injury of a visitor, the owner has a duty to fix the problem.
Breach
A breach of duty can happen through one of three ways:
The property owner caused the hazard and did not resolve it.

The owner knew the hazardous condition existed and neglected to fix it.

The hazard existed for an extended period, during which the owner should have discovered and corrected the problem.
For example, a property owner or employee noticed a water spill on the floor and neglected to warn visitors of the wet floor or clean it up. This would be a clear breach of duty.
Causation
If there exists a breach of duty, was this breach of duty what led to the slip and fall? Using the example above, if an owner fails to clear a water spill and a person slips and falls because of the spill, there would be clear causation. However, if witnesses say the person did not actually slip on the water but slipped because his or her shoes were untied, then there is no causation.
Damages
If a person slips and falls because of the property owner's negligence, what injuries did they sustain from the accident? The answer helps determine if the injured person should receive compensation for the damages incurred. If an individual slips and falls because of negligence, but does not suffer any injuries or damages, that person cannot sue for personal injury.
Compensation for a Slip and Fall Case
The goal of an insurance settlement or personal injury case is to help the plaintiff make up for the damages incurred from the accident. This does not just mean paying for medical expenses resulting from the slip and fall. Injured parties may receive compensation for many items, including:
Current and future medical expenses resulting from the accident

Current and future loss of wages resulting from the accident

Disfigurement
The amount of money you receive from a slip and fall settlement depends on how severe the injury was. It also depends on how much of a negative impact it has now and will have later. If you suffered injuries from a slip and fall, you owe it to yourself to get in contact with an attorney right away.
A legal advocate will help you file a slip and fall lawsuit against the property owner. They'll also make sure you receive maximum compensation for your suffering and injuries.
Work With an Experienced Local Lawyer
Have you recently suffered a slip and fall accident likely caused by negligence? If so, you may qualify for financial compensation to cover your injuries, loss of wages and pain and suffering. You need an experienced slip and fall injury lawyer to represent you in court and get you maximum compensation for your injuries.
Submit a request online or call us today at (866) 345-6784 to get in touch with an experienced lawyer in your area!