What Is a Big Rig Accident?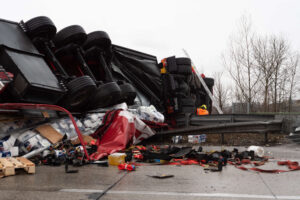 What Is a Big Rig Accident?
The consequences of big rig accidents can be especially difficult to work through. There are many parties involved, including owners of the truck, owners of the goods inside the trailer, and any other drivers who were affected. Whether you or others suffered injuries and losses or not, it is important to contact a big rig, or truck accident lawyer.
A big rig is a semitrailer truck, made of a tractor unit with one or more trailers attached by a fifth-wheel hitch. These trucks are often called semis, 18-wheelers, or tractor-trailers. The tractor unit is the part of the truck with an engine, fuel tanks, driveshaft, and axles. The trailer or trailers typical use is to transport freight. Trailers do not have front wheels and must be attached to the tractor in order to move. Semis generally weigh, on average, 32,000 pounds when empty. Once freight has been loaded, these trucks may weigh, on average, about 80,000 pounds. This is equal to the combined weight of 20 to 30 passenger vehicles.
The hitch used to attach the trailer to the truck is designed to couple and uncouple easily. This ability of the hitch is just one of the factors in big rig accidents that lead to heavy damage. Of course, there are several other factors to consider:
The weight of the rig and its freight

Road conditions

The driver's condition, including drowsiness, intoxication, aggression, and distraction

Mechanical problems or defects in the tractor or trailer
A big rig accident may also be the result of a combination of these factors, and the attorney(s) who work on the case must review all of these factors.
What Types of Accidents Are Most Likely?
As with passenger vehicles, big rig accidents are difficult to anticipate, but understanding which types of accidents are most likely and their causes can help truck drivers and other drivers on the road avoid accidents and injuries.
Blindspot Accidents
Semitractor-trailers have more blind spots than passenger vehicles, especially if the truck does not have additional mirrors. Cars and other passenger vehicles may get into one of these blind spots next to or behind the big rig. A good rule of thumb is if you cannot see one of the driver's mirrors, then the driver probably does not see you.
Jackknife Accidents
Jackknifing is one of the most common types of big rig accidents. Jackknifing refers to situations when the tractor of the rig folds back into the trailer. Sometimes, the trailer pushes the tractor forward and around, creating what looks like a closing jackknife. This type of accident can be particularly dangerous because the driver does not have control over the vehicle. These accidents often happen after the truck goes into a skid. Some of the conditions that lead to jackknifing include:
Slippery roads

Wet or icy road conditions

High speeds
Sometimes, if trucks have not been properly maintained, this negligence can play a part in the accident.
Rollover Accidents
Rollovers are more common with tractor-trailers than other vehicles because of the configuration of the trucks. They tend to be taller than they are wide, lifting the center of gravity. Additionally, shifting may cause the load to become unstable. Other conditions that contribute to rollovers include:
Icy roads and intersections

Inexperienced drivers

Distractions or fatigue

Lack of appropriate maintenance

Heavy winds
Accidents Caused by Drivers of Passenger Vehicles
Many big rig accidents happen when drivers of cars, usually, are unaware of how big trucks operate. Some examples of this include drivers who get into the blind spots of tractor-trailers and drivers who over-estimate a truck's ability to brake quickly.
In any of these types of accidents, multiple factors may figure into the cause of the accident. This further complicates the work required in determining liability.
What Should You Do If You Have Been Involved in a Big Rig Accident?
Accidents involving big rigs or other commercial vehicles can be particularly frightening and overwhelming, but the steps you take immediately following the accident are crucial. The first thing you should do is to check with all of the drivers and passengers to be sure that no one suffers an injury. If anyone suffers an injury, call 911 immediately. If you are able to do so, take these steps next:
Call the police:

You will need to fill out an accident form. Remember not to admit fault at this time.

Call your insurance company:

Tell your representative about the crash. Take pictures of the accident from as many perspectives as possible and keep track of any paperwork you receive.

Talk to witnesses:

Write down their names and phone numbers as well as the information they provide. It may be helpful to have access to their observations later.

Gather documents:

You need to be able to verify any property damage, medical costs, lost wages, and similar expenses. This information may be valuable to your attorney and the end results of a claim.

Talk to a big rig accident lawyer:

You should not admit any fault at the scene of the accident, but you must be truthful with your lawyer. Dishonesty could negatively impact the results of a truck accident claim.
It is crucial that you involve the work of an attorney with big rig experience. There are many parties who may carry some responsibility for the accident, including the drivers of passenger vehicles, the truck driver and the owner, the trucking company, the people who loaded the truck, and any mechanics who maintained the truck.
Work With an Experienced Local Lawyer
If you have been involved in an auto accident with a tractor-trailer, you need to work with an experienced big rig accident attorney. They can help represent your best interests. You need the assistance of a professional who understands the complexity of big rig cases and who is willing to dig through all relevant details to help you get to a successful conclusion of your claim.
Start on your claim today. Gather together your records and receipts and reach out to an experienced lawyer.
Submit a request online or call us today at (866) 345-6784 to get in touch with an experienced lawyer in your area!