Hire a Whistleblower Attorney to Protect Your Rights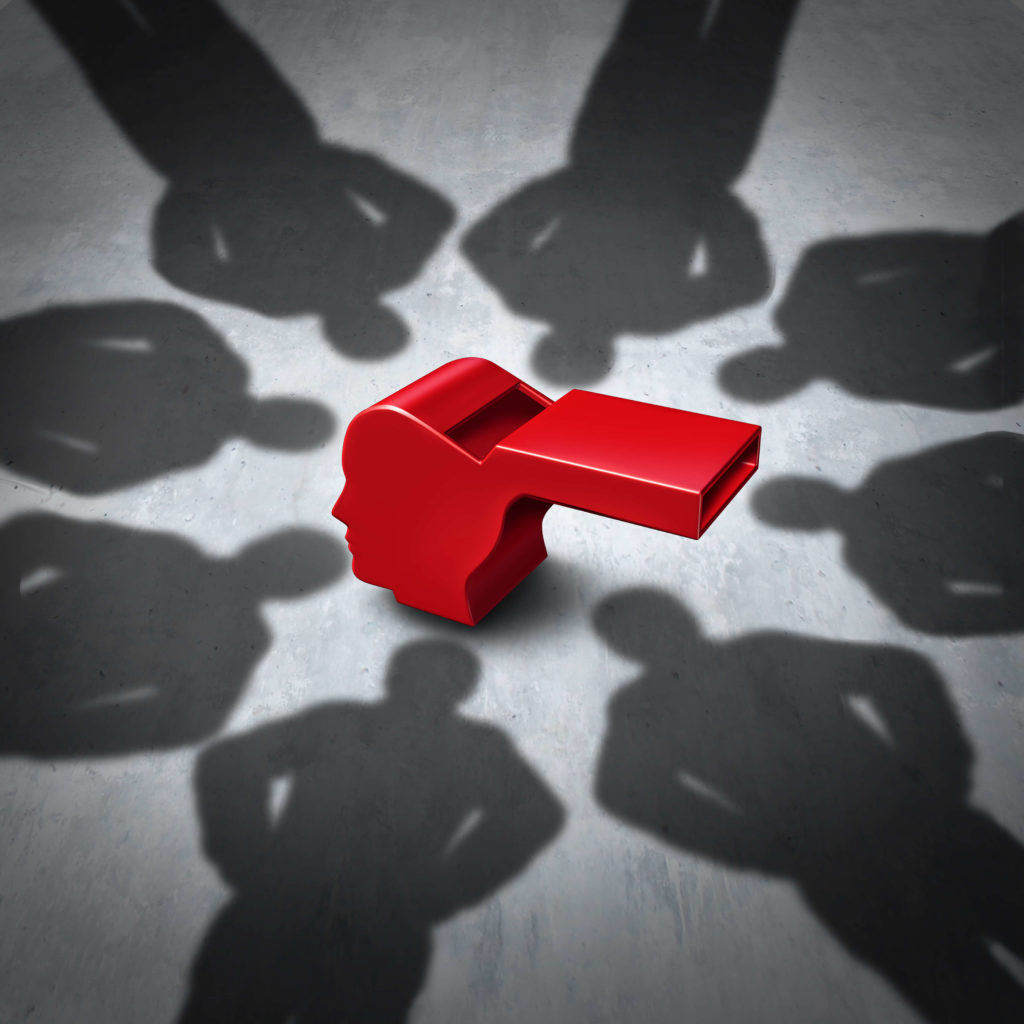 Learn about your rights as a whistleblower and why you might want to hire a whistleblower attorney to protect you.
What Is a Whistleblower?
A whistleblower is someone with evidence of wrongdoing who comes forward to disclose the information. Whistleblowers are essential in alerting the government of various wrongdoings:
A law being broken

Regulation violation

Misuse of government funds

An action by a company that creates a danger to public health or safety

A company committing fraud
If you suspect wrongdoing and can present evidence if available, then you can qualify as a whistleblower.
Can a Whistleblower Stay Anonymous?
Being a whistleblower is not for the faint of heart. The job requires coming forward and working with an attorney to prove to the courts that wrongdoing took place. In some cases, a whistleblower can stay anonymous, but this often makes the case more difficult. Depending on how the case proceeds, the whistleblower may have to come forward for the case to continue.
The company could guess the whistleblower's identity based on the evidence provided to the government. If you feel concerned about your identity being revealed, then talk to a whistleblower attorney who can help you navigate your options to protect your identity.
Can Anyone Be a Whistleblower? 
Generally speaking, almost anyone can be a whistleblower. Even if you were in some way involved in the misconduct, you can still file claims. If you were involved unknowingly or if you were taking direct orders, then the law recognizes your situation and does its best to protect you. Additionally, corporate competitors can be whistleblowers if they suspect foul play.
To be a whistleblower, you do not need to:
Be an American citizen

Be a current employee

Have witnessed the fraud

Be a former employee

Have evidence of the fraud
If you feel unsure whether you qualify to be a whistleblower and to receive whistleblower rewards, then contact an attorney today to learn about your options.
Is a Whistleblower Protected Against Retaliation?
While state and federal laws prevent retaliation, the risk remains very real. As a whistleblower, especially if you do not remain anonymous, you risk being unfairly treated in the workplace and even fired and/or blacklisted.
What Does a Whistleblower Attorney Do?
A whistleblower attorney possess special trained to work on complex litigation. They work with you to gather evidence and present a strong case to persuade the government of the existence of wrongdoing. By and large, it is in your leading interest to hire an attorney if you want to lessen the risk of retaliation, maintain your anonymity, or have a chance at claiming a whistleblower reward.
Evaluate the Claim
When working with a whistleblower lawyer, they first evaluate your claim. The attorney looks at your evidence and listens to your story to see if she or he has a good chance of proving the fraud allegations in court. Your lawyer advises you on moving forward with a government case or reporting it internally and going from there.
If your attorney recommends moving forward, then he or she may ask you to find additional supporting evidence in the form of documentation or statements.
Filing a Claim
Filing a claim is a complex process and requires involving the False Claims Act. Your attorney files the claim and the evidence with the federal courts. Depending on the fraud committed, a lawsuit could become a requirement. Consult a whistleblower attorney before deciding to submit a claim.
Fight For the Maximum Whistleblower Reward
Not only can whistleblower lawyers help you bring a case forward to the government and collect evidence, but they also fight for you to receive the largest whistleblower reward possible. That said, there are no guarantees of an outcome.
How a Whistleblower Case Works
The process of filing a whistleblower case is complex. Make sure you work with an experienced attorney familiar with whistleblower cases to better your chances of experiencing success.
Step 1: Confirm the Existence of Fraud
The first step in beginning your case as a whistleblower is to confirm the actual existence of fraud. In order to file for a whistleblower reward, you need to point to the specific false claim made. That means you need to point to where the government lost money because someone cheated.
Step 2: Collect Evidence
The next step is to find and collect evidence to support your case. Give all the evidence you have to your attorney, no matter how insignificant it may be. You must remember to be careful during this step because you do not want to break the law while trying to collect evidence. Consult a whistleblower attorney to know where and how to look for hard evidence.
Step 3: File Under Seal
Your attorney meets with the government to discuss the case. If they decide the case should move forward, then they file a qui tam lawsuit. The case files "under seal," which means the company that the claim is against does not receive notice of the filed claim.
The government then has 60 days (or longer if parties file an extension) to investigate and find evidence before serving the defendant.
Step 4: Collect Your Reward
The case may take weeks, months, or even years. The more substantial the case, the more likely you are to receive a large reward.
The law requires that the company that cheated the government pays three times the amount they failed to pay or stole in addition to fines. Depending on the size of the company, fines could be in the millions or billions.
The whistleblower generally collects between 15 to 20% of these fines, some of which go to the attorney. You could receive a massive payout, especially when you whistleblow and the IRS gets involved.
Work With an Experienced Local Whistleblower Attorney
If you think you may have a case for fraud, then contact a whistleblower attorney today. Submit a request online or call us today at (866) 345-6784 to get in touch with an experienced lawyer in your area!