What Is a Civil Attorney?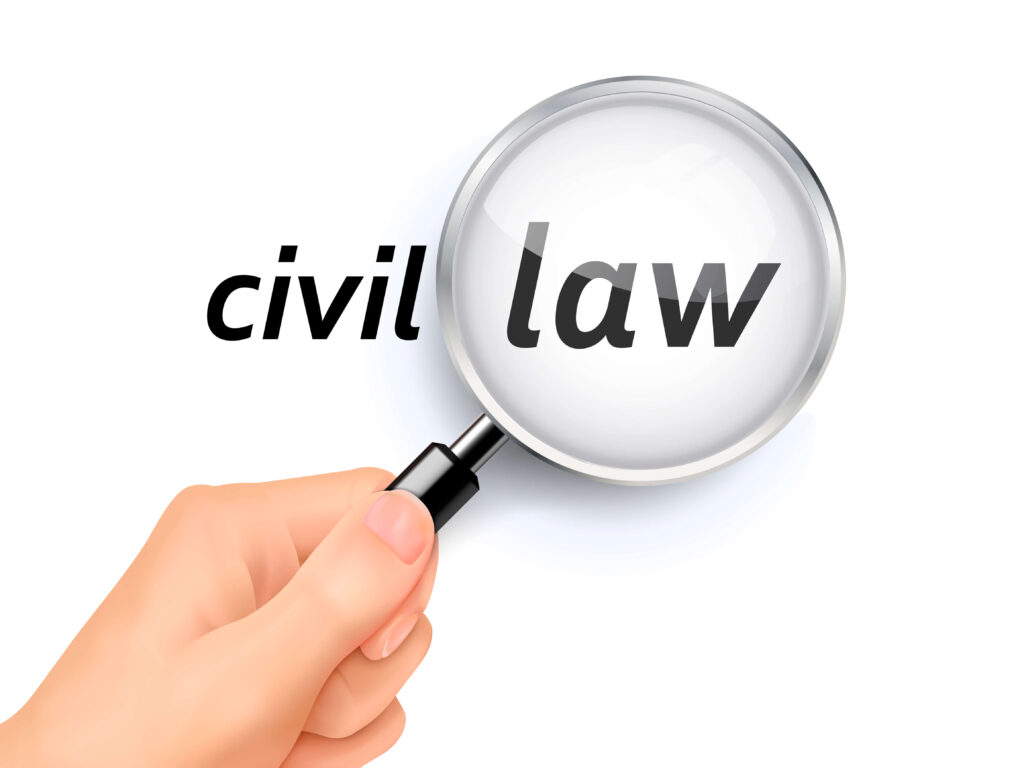 Because you interact with private citizens and companies every day, there may come a time when you experience financial or physical harm because of another's negligence. While you can take on your legal case by yourself, you may have better luck working with a attorney who specializes in criminal law. What sets a criminal law attorney's job apart from civil law attorney is the latter pertains to organizational/individual conflicts and legal matters.
Say that someone damages your personal property or violates your privacy rights. A civil lawyer can help you build a case and increase your chances of receiving damages from the responsible party.
Civil lawyers may also specialize in specific areas of civil law. This includes, medical malpractice, environmental law, intellectual property, family law and personal injury. Some refer to these attorneys as "litigators."
What Tasks Do Civil Attorneys Perform?
Do you have trouble determining what kind of legal aid you need? Knowing what specific tasks different attorneys perform helps narrow your options. Civil lawyers commonly handle the following:
Arguing legal remedies

Gathering documents and other forms of evidence for the discovery process in a civil lawsuit

Performing legal research 

Filing court documents and pre-trial motions for a lawsuit

Making opening and closing statements for a trial

Raising objections and examining witnesses in a trial

Handling appeals and other pre-trial tasks
These attorneys also negotiate settlements and draft legal documents.
What Is a Civil Lawsuit?
While civil attorneys deal with civil lawsuits, you may not understand all the elements of such a suit. Civil suits involve private disagreements between two parties, usually two groups or two people. The suit's intention is for one party, the plaintiff, to hold the other, the defendant, liable for a wrong action or negligence. In civil court, judges do not have the same legal reach as they do in criminal court. That said, judges always retain the power to compel parties to perform proper recompense, which does not include jail sentences. The only time that a party may receive jail time in a civil court case is if a person goes against a court order or is held in contempt.
When Should You Work With a Civil Attorney?
Do you need to consult a civil legal representative every time you argue with another person? Not necessarily. It is when you strongly consider filing a lawsuit (or face a lawsuit) or taking similar legal action that you may want to speak to a legal professional. You may feel that you have a good chance of winning your case without professional insight. However, attorneys have the experience and education to accurately gauge your chances of success and any obstacles standing in your way. An attorney may suggest an alternate dispute resolution method, such as mediation, that serves your legal situation better than taking your case to court. Also, legal representatives know all necessary paperwork, procedures and steps required to properly handle your case according to the latest rules, regulations and laws, which can save you a lot of time and money.
Should You Ever Work With a Civil Attorney for a Criminal Matter?
Occasionally, a civil attorney's role spills over into the criminal law realm. For instance, parties may feel that the criminal justice system may not serve them and their case fairly. This could prompt a person to work with a civil legal defendant rather than a criminal defendant. Doing so allows the individual to enjoy greater accountability and justice, and the individual remains in control of the case. Civil lawyers may help parties receive more compensation and prevent similar crimes in the future.
One must also consider the burden of proof involved in civil cases. It is typically is less stringent than the burden of proof involved in criminal cases. With criminal cases, legal professionals must prove their client's case with evidence beyond a reasonable doubt. That means the proof must demonstrate the accused party's guilt without question. Civil cases only require a preponderance of evidence. This means that one party must show a 51% chance that the other party bears guilt for the infraction in question.
Another unique aspect of civil cases is that advocates not only aim to prove what transpired but also demonstrate why the event happened to better ensure that it never occurs again. A civil lawyer concentrates more on your needs as a client rather than focusing on punishing another's misdeeds.
What Should Clients Expect When Working With a Civil Attorney?
One of the most essential facts to know about legal matters is that a variety of factors determine outcomes. Still, civil legal defendants help and represent their clients from the beginning of the legal process to its conclusion. Clients can expect their legal counsel to decide whether it is better to go to court or settle the matter privately. You may prefer a private settlement if you dislike the idea of your legal matter becoming part of the public record.
Something else to expect when teamed with a civil representative is deciding the most favorable outcome. You may want the other party to desist from harmful activity, or you may prefer to receive monetary compensation.
How Much Do Civil Attorneys Cost?
Payment is one of the biggest concerns when working with a legal defender. Some advocates charge a contingency fee while others charge by the hour. With the contingency option, you pay nothing up front. But, your representative receives an agreed-upon percentage should you win your case. Often, lawyers take cases on a contingency basis when they stand a strong chance of winning. Hourly rates vary depending on geographic location, so ask about individual rates and what they include before signing paperwork or turning your case over to someone.
Work With an Experienced Local Lawyer
If you have a civil matter on your hands, work with a reputable and well-experienced civil attorney who can help you protect your rights and gather all necessary evidence to build a solid case. Submit a request online or call us today at (866) 345-6784 to get in touch with an experienced lawyer in your area!