Hire An Attorney To Prepare A Non-Compete Agreement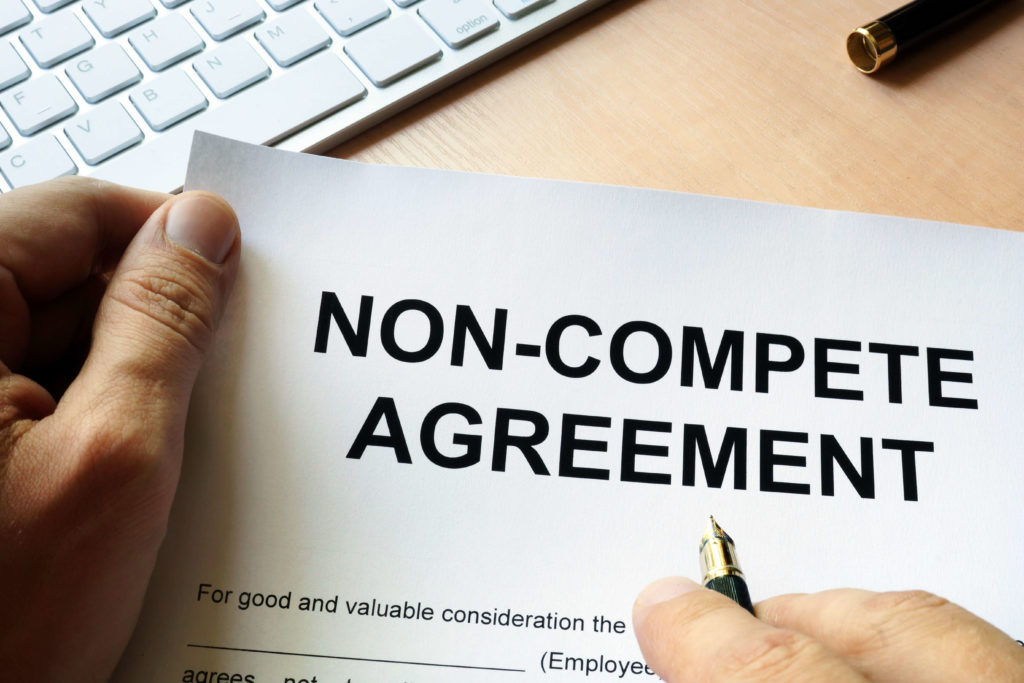 Learn about non-compete agreements, when to create one, and why it's essential to hire an attorney to draft one for you and your business.
What Is a Non-Compete Agreement?
When you hire a stellar employee, you want to make sure she or he remains loyal to your company. You want this person to focus her or his talents, skills, contacts and qualifications on your company and clients. You want to make sure your star employee does not solicit work elsewhere or work for one of your competitors.
Before hiring an employee or seeking potential talent, you must understand that your business is vulnerable. Regardless of your industry, you are likely in competition with several other companies. You want to ensure your competition does not know your organization's information and secrets. You also do not want your talented employee to immediately take her or his talents elsewhere. They could potentially steal your clientele from you for a new company in the process.
The best way to do this is to prepare a non-compete agreement. Such an agreement acts as a contract your employee must sign that stipulates that he or she cannot work for a competitor. The person must honor this requirement for the duration of employment. The stipulation may also include not soliciting the company's clients for the duration of employment and for some time after employment termination. There may also be geographic limits for where the employee cannot seek work for a competitor.
The Complexities of a Non-Compete Agreement
Non-compete agreements have further intricacies. For instance, usually, a non-compete agreement consists of an agreement to protect trade secrets. It also agrees to keep confidential information about the company to oneself. A trade secret keeps a company's proprietary information undisclosed to those unaffiliated with the company. For instance, a ghostwriter would have to always keep the names of the clients he or she ghostwrites for confidential. Trade secrets can also include sales and marketing strategies, financial reports, and details about products and services.
Such an agreement is a complex contract that must abide by your jurisdiction's laws. It is primarily intended to protect the employer. However, it must equally benefit the employee so it does not seem unreasonable. Consulting with a legal professional helps with drafting the ideal non-compete agreement.
Why You Should Hire An Attorney
While an employer is free to draft a non-compete agreement alone, these agreements are not always enforceable. With the specific laws of different jurisdictions, it becomes imperative for the employer to comply with the most recent laws when drafting the agreement. Failure to do so can render the agreement invalid.
That is why you should consider working with an attorney. An experienced legal advocate understands your requirements for the non-compete agreement as well as your jurisdiction's laws. You also have to prove that such restrictions are not unreasonable. The employer has the burden of proof to show that if the employee seeks work from a competitor, then it puts the employer at an unfair disadvantage.
You may come from a jurisdiction with heavy restrictions on drafting non-compete agreements. You want an attorney to ensure you can work along with restrictions and still produce a favorable contract. If your employee violates the terms of the non-compete agreement, you can have an attorney by your side to sue for possible damages.
The Function of a Non-Compete Agreement
Throughout the U.S., non-compete agreements are a legitimate form of contract. The laws in different jurisdictions allow for protecting trade secrets, relationships with clientele, confidential company information and specialized training, among other criteria related to the running of a company.
There are also protections for stipulating the duration of obligations after the employee leaves the company. The court assumes a period of six months, with two years being a usual duration. The duration can exceed two years if the company can prove that it is reasonable to extend the duration.
The non-compete agreement must, of course, benefit the employee as well. The employee must not feel she or he must sign away opportunities – as non-compete agreements have several restrictions. It is imperative that when drafting the contract, the employer thoroughly explains how the contract benefits the employee.
If the employer cannot prepare or enforce a non-compete agreement, laws protect the company. If the employer can prove that any divulsion of trade secrets or seeking employment from competitors is at an unfair disadvantage to the company, the law may protect the company.
Work With an Experienced Local Lawyer
You want to protect your business and its secrets, and you want to make sure your company does not receive any unfair disadvantage from competitors. You also want to ensure that your talented employees do not share their skills with your competitor for a set duration.
We do not want your company to be in jeopardy, either. These are all reasons to prepare a legal non-compete agreement. Using our referral service, you can find a local lawyer who knows the ins and outs of the law and can help you draft and enforce an agreement to your and your employee's liking. You can both enjoy peace of mind and be secure about your company's future after working alongside a reputable legal professional.
Submit a request online or call us today at (866) 345-6784 to get in touch with an experienced lawyer in your area!