Hire a Quitclaim Deed Lawyer to Help With Real Estate Affairs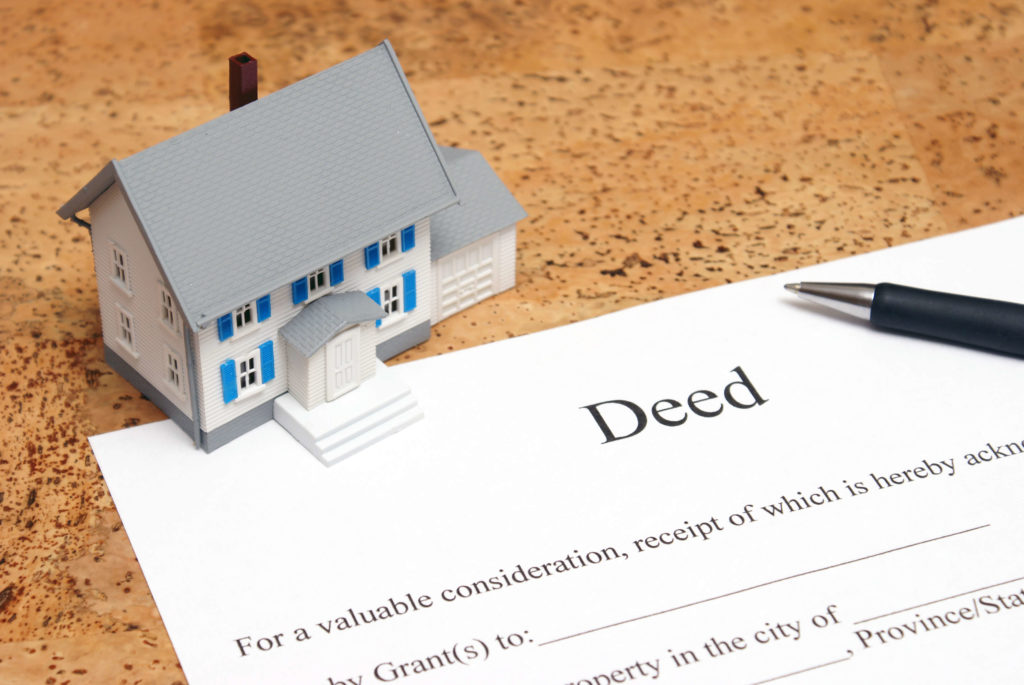 What Is a Quitclaim Deed?
Deed Definition
Transferring a real estate title from a property owner to a buyer is generally verified through a "deed," most commonly through a "grant deed" or a "warranty deed." These allow the seller to give the buyer a "good title," along with the right to sell the property. If an individual steps up with a superior title to the property, grants or warranty deeds also offer buyer protection to compensate them in such situations. Additionally, this deed promises the buyer that the property is free of liens and mortgages. This is different than a quitclaim deed.
Quitclaim Deeds
In contrast, a quitclaim deed offers no guarantees, warranties or promises on the property. Such deeds simply transfer the grantor's entire interest in the property, though they can only transfer what the grantor actually owns.
In some cases, this could be a full title. In others, it could be nothing at all. Consulting with a legal expert can help you assess the details of signing a quitclaim deed; such as what you get from the agreement, or any hidden heirs or superior claims involved.
Quitclaim Deed Limitations
Before signing (or filing) a quitclaim deed, you must understand the restrictions in place. Such limitations commonly include:
No guarantees of property ownership, title or other existing conditions

. Sometimes, the grantor may not have title to the property at all. The property may also hold existing liens or interests. 

No changes to a mortgage

. This means divorced couples who use quitclaim deeds to transfer one's property interest to the other still have both their names on the mortgage. This also means they are both still liable for the debt. 

A statute of limitations

. Some states may honor a quitclaim deed for only a set amount of time.

Zero protection from a will

. Grantors who transfer their interest in a property through a quitclaim deed, though receive legal ownership of the property through a will later, do not have to give up the property. 
When Should You Use (or Sign) a Quitclaim Deed?
Parties generally use quitclaim deeds when transferring property ownership without an actual sale. For example, in the case of a divorcing couple, one partner may quitclaim her or his share of the property to the other. Parents may quitclaim their house to their children should they move to an assisted living center. The sole homeowner may quitclaim a share of the property to a cohabitant.
Should there exist vague, existing questions surrounding the property's ownership or title, a quitclaim deed can clear up the situation. Such issues may arise between divorcing couples or if another party may have possible ownership of the property.
In these cases, it is also referred to as a "deed of release" to resolve any complications in property ownership or title. A real estate lawyer can help assess your current property situation and whether a quitclaim deed would be necessary for your case.
Quitclaim Deed Form Requirements
Though the requirements can vary by state, most require the following:
The names of the grantor and grantee

A legal description of the property being transferred

The county name for the property's location

Signature of the notary public and the grantor
Other necessary information may include the date of the transfer, if any money is involved, the grantor's existing ownership rights, the grantor and grantee's contact information, and the grantor and grantee's marital status. Some states may also require the grantee to sign the document, with others requiring witness signatures. After all parties sign, they must file it in the land records office in the property's geographic location.
You must make sure your quitclaim deed holds all the legal details required. Working with a legal expert can ensure a smooth, efficient process between you and other parties involved.
How to Challenge a Quitclaim Deed
In some cases, parties may challenge a quitclaim deed for legitimacy. An individual may claim the grantor did not actually sign the deed or that the deed was forged.
A quitclaim deed already filed in the land records office can prove difficult to challenge, as it has already taken place. Thus, those wishing to challenge a quitclaim deed can find assistance through consulting with an attorney. When working to dispute your case in court, you must gather any proof or information you may have on the deed's execution. This can include any witnesses, proof of the grantor's intent (e.g. emails or texts) and the original deed that transferred ownership to the grantor, proving she or he possesses or lacks the full title to make the transfer.
Work With an Experienced Local Lawyer
Real estate transactions can become rather complicated and challenging. Whether you desire to transfer ownership of a property or are being granted full or shared ownership of a property, it can help to work with a lawyer before filing or signing any deeds.
As quitclaim deeds come with no guarantees, such cases are often prone to vague assumptions, conditions and agreements. Allow our team of legal experts to assess and outline your rights, ensuring you have full knowledge of what to expect and receive. Additionally, our dedicated advocates can help ensure all the requirements of creating a quitclaim deed, making your exchange as quick and problem-free as possible.
Submit a request online or call us today at (866) 345-6784 to get in touch with an experienced lawyer in your area!