Hire an Independent Contract Agreement Lawyer To Protect Your Rights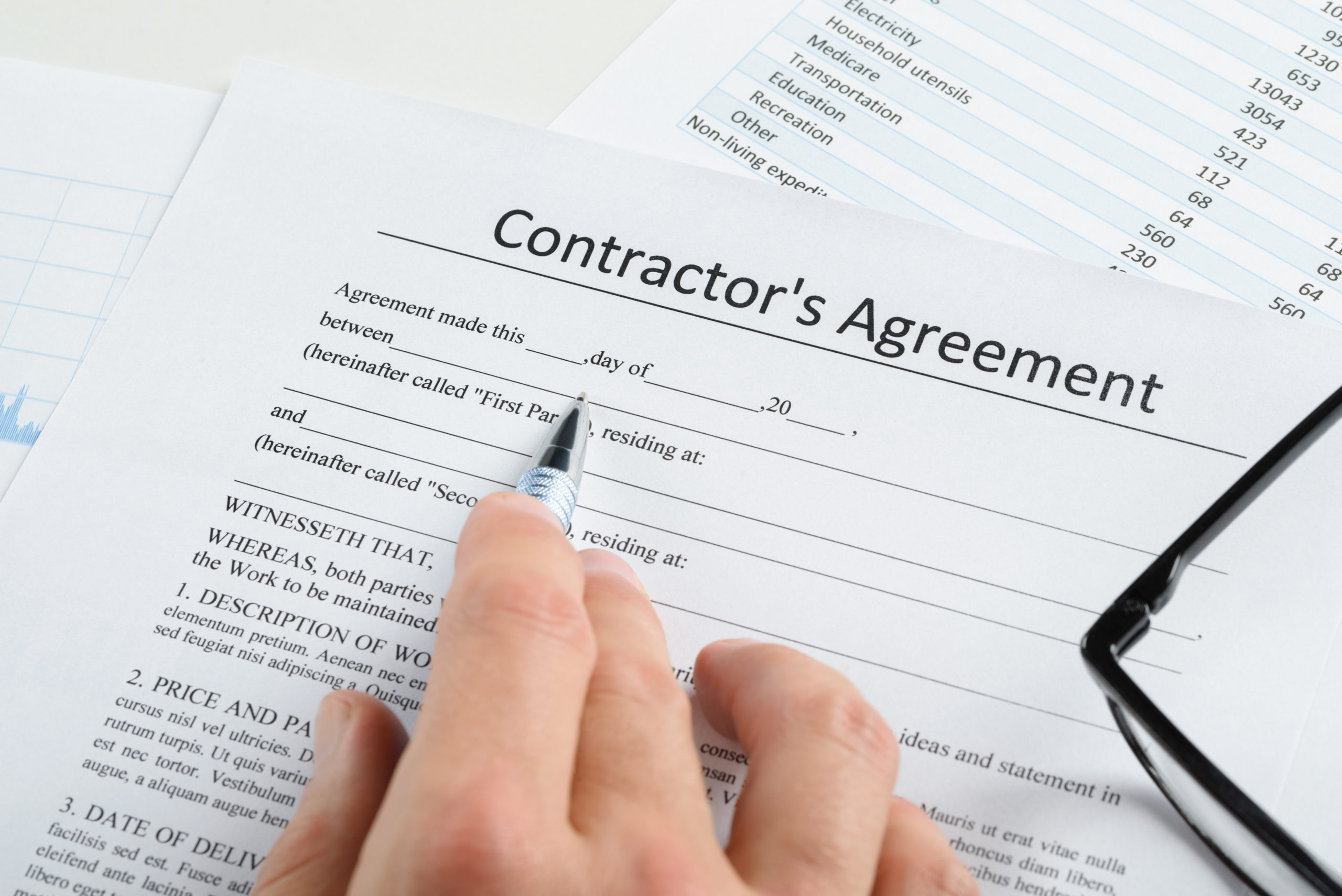 What Is an Independent Contractor?
Independent contractors are individuals, companies and corporations that offer services or goods through either a verbal agreement or traditional contract. Independent contractors work on an as-needed basis, a fact that differentiates them from standard employees. Those who hire independent contractors do not pay or withhold taxes from contractor payment. The IRS still needs to know about all contractor income and payments from payers and payees.
Who Is Classified As an Independent Contractor? 
It can be difficult to tell the difference between the responsibilities of an employee and those of an independent contractor. Sometimes, individuals hire contractors and expect contractors to follow the same responsibilities as an employee.
This is an illegal practice, and the IRS audits many businesses to protect workers' rights. Unfortunately, employers unaware of an independent contractor's responsibilities could face consequences.
The contractor must supply all of her or his equipment and materials necessary for the job. This means supplies like computers, cameras, etc. Contractors also control how they complete work as long as they do so by a given deadline.
On the employer's end, she or he may cease all work with the contractor at any time. Additionally, they do not have to give prior notice before stopping work. Similarly, though, the contractor can cease work at her or his discretion.
Most importantly, a worker under this classification can set his or her own work hours and does not have to adhere to a predetermined schedule. Independent contractors also have the right to work wherever they would like on their projects when it comes to their physical location.
Common Agreement Issues Independent Contractors Face
As previously mentioned, it is not always clear what responsibilities employers can give contractors. Occasionally, this behavior leads to an infringement of a contractor's rights and a violation of their agreement. A violated agreement could result in the worker leaving a project uncompleted, which could cause significant issues for a company.
Some of these scenarios include:
Misclassification
One of the most frequently made employer mistakes is misclassifying a contractor's employment status.
Although the intention is to work with (and pay) an independent contractor, you cannot overstep certain lines, including giving new projects without new agreements, giving contractors W-2 forms instead of a Form 1099 MISC, or providing contractors with materials. It may seem odd at first to avoid accommodating your contracted worker. However, it is for both yours and the contractor's protection. Treating your contractor as an employee would result in you being legally obligated to provide her or him with all the same benefits as an employee. This means health insurance, guaranteed income, etc.
Most misclassification is unintentional. But you could run into legal trouble if you do not develop a solid independent contractor agreement. This could involve receiving a fine from the IRS, damaging your business's reputation, and even finding yourself sued by a former worker for owed compensation.
Exercising Too Much Control
It can be difficult for some individuals to let their hired contractors work on their own and not supervise how they complete projects. One of the most important rights independent contractors have, though, is the ability to complete the work in whatever manner suits them best.
This also means you do not have any say in whether your hired contractor employs other people to complete the assigned work. Most importantly, though, the independent contractor you hire should never have to visit/work at your office unless absolutely necessary. Requiring a contract worker to visit your office solely for the sake of review or supervision could infringe on her or his rights.
Lack of Thorough Documentation 
It is inadvisable to work with an independent contractor without an airtight agreement in place to protect both parties' rights. For example, a hired contractor may cease all work midway through a project, leaving their obligations unfulfilled. They may cite their reason as having an issue with deadlines deemed too short, claiming it was too stressful to complete the work within the time given.
If the agreement did not establish the deadlines for their project(s), it is impossible to argue fully that they were reasonable. Similar issues can arise when it comes to compensation, extra work, etc. Put simply, your agreement needs to protect you from every likely scenario you could encounter to avoid legal trouble.
How an Independent Contract Agreement Attorney Can Help
You may not be directly involved in a conflict over your agreement. However, contractor agreement attorney can still help you. By having all your independent contractors sign an agreement reviewed by an attorney, you ensure the protection of your rights and theirs.
Depending on the scenario, the independent contractor you hire may claim to run an independent business. It is essential, though, that you require them to prove the business's legitimacy with their corporate formation documents, business license, etc. Your attorney can review these materials and determine if you need to concern yourself with anything before working with the contractor.
Most importantly, a lawyer who specializes in this area of law can help you during the following circumstances:
Drafting and navigating an agreement for your contractors

Clearly defining the nature and duration of the worker's services

Making necessary revisions or changes to the agreement

Terms related to the termination of the agreement
Your legal advocate can also handle any other obligations related to your agreement. This allows you to create the most inclusive document possible.
Work With an Experienced Local Lawyer
Submit a request online or call us today at (866) 345-6784 to get in touch with an experienced lawyer in your area!