What Is a Consumer Protection Lawyer?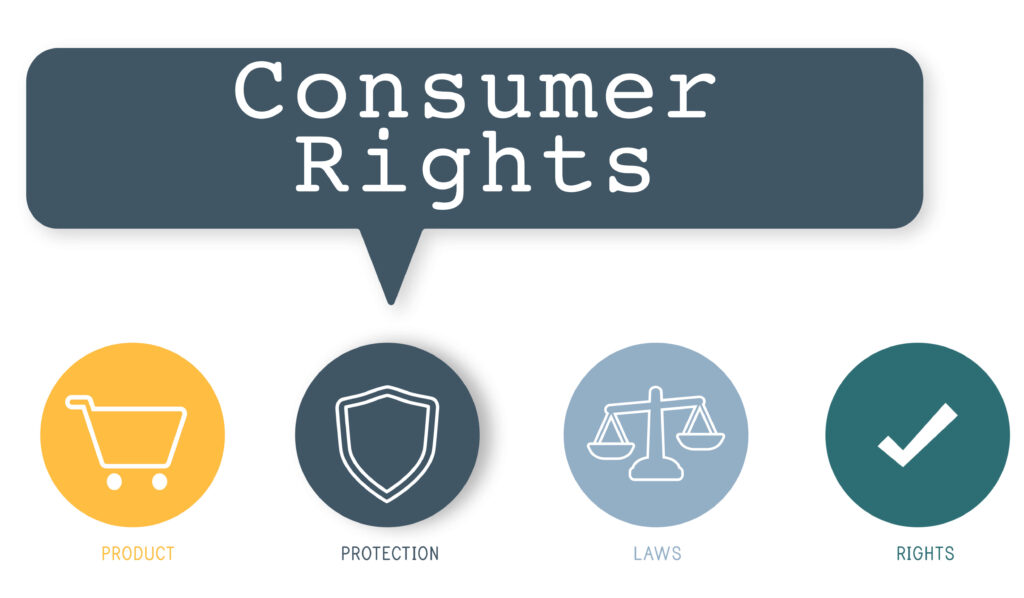 When large corporations or local businesses take advantage of consumers through unfair practices or fraud, a consumer protection lawyer/attorney can help protect the victim's rights and build a case against the unscrupulous business owner or company. Because large, long-standing businesses may have legal teams of their own, it is a good idea for people in need to consult with a legal advocate familiar with consumer protection laws in their state. Together, attorney and client can build a solid case and protect the client's rights as a consumer.
What Is Consumer Law?
Consumer law touches on statutes and regulations designed to protect marketplace buyers and stop companies from engaging in fraudulent practices. The law classifies consumers as individuals who buy services or goods from retailers, wholesalers and manufacturers.
This area of law involves both federal and state laws. Examples of consumer regulations include establishing product safety measures, forbidding dishonest advertising, safeguarding private consumer information and regulating debt collection practices. If a person buys a defective vehicle, becomes the victim of an online scam or experiences identity theft, turning to a legal advocate familiar with handling consumer complaints could become the only viable means of recourse.
Another example of consumer law is the requirements for companies to provide the public with detailed product information. Consumer protection laws sparked the creation of nutrition labels. To keep consumers safe from poorly prepared goods, lawmakers created drug and food safety laws.
What Are Examples of Consumer Fraud and Unfair Practices?
The Better Business Bureau and the Federal Trade Commission are examples of agencies and organizations created to protect consumers and their rights by enforcing consumer protection laws. Such organizations and agencies respond to various unfair practices and fraudulent acts.
Online and Identity Theft Scams
Wide use of the internet has increased identity theft, the act of robbing a person of their personal and financial information. Once a scammer has a consumer's Social Security number, financial information or something similar, the criminal may access the victim's medical records, bank account and email. Means that scammers often use to steal private information include hacking databases through data breaches, phishing and setting up unsafe internet connections that exploit weaknesses and security gaps in a person's computer.
Not all identity theft happens online. Some thieves go through trash and dumpsters in search of sensitive papers such as tax documents and bank statements. Criminals may also go through a person's mail in search of a credit card or bank statement with private financial information. If someone swipes a tax document, they may "procure" a person's Social Security number.
Travel Scams
People may receive a special travel offer or prize package for a contest they did not enter. Examples include renting a beach condo for an unusually low price. Or getting an offer for a free vacation and receiving inexpensive airline tickets. Scammers may ask the potential victim to pay shipping and handling fees before sending a prize package. Or they may request a payment through a courier or wire transfer. Special offers limited to 24 hours or requests that require a person to share personal details are additional signs of a potential travel scam. Consumers should always research the offer. In, addition to thinking twice about submitting sensitive information to avoid becoming scam victims.
While not an outright scam, people should be careful about accepting an offer for a timeshare. While they may offer great deals, timeshares can come with severe time restraints and fees. Consumers should research their state's "cooling off" laws before accepting an offer. States with these mandatory laws let people cancel a deal after a few days, even after signing an agreement. If a person lives in a state without cooling-off laws, they may have little choice but to take legal action against the party who sold them the timeshare.
Selling a Motor Vehicle With Defects 
Motorists purchase vehicles assuming they are getting a reliable car from a trustworthy dealer, not a lemon. Lemons are motor vehicles with safety defects that affect utility, safety or value. Different states have different lemon laws, making it essential that consumers check their area's consumer protections to determine if their vehicle qualifies as a lemon.
No matter the state, all lemon laws adhere to a general framework. For instance, lemons include vehicles with severe defects included in a warranty. These defects happen within a specific time frame after a consumer buys the vehicle. Also, lemons can be vehicles that continue to have severe defects. Even after the new owner makes several attempts to repair the issue. However, car buyers must realize that just because they think they purchased a lemon does not mean the vehicle fits their state's current definition.
What Should Consumers Ask Before Hiring a Consumer Protection Attorney?
Before deciding which consumer protection legal advocate to work with, consumers must determine how much experience the professional has with their specific legal issue. Further, they must also gauge how familiar an attorney is with state, local and federal laws pertaining to their case.
Asking legal representatives about past consumer protection cases is a good idea. So is inquiring whether the person is a member of consumer protection associations. Asking about free consultations may make it easier for consumers to find the right attorney, too.
How Much Do Consumer Protection Attorneys Charge?
One unique aspect of consumer law compared to other legal matters is that consumers may receive legal help for free. Many consumer laws require the business or corporation to pay the victim's attorney's fees if the victim wins their case. Should the person lose, they must pay the resulting legal fees. Some firms waive fees if they do not win. But typically only after closely examining case specifics before agreeing to take on a client. No matter the case or outcome, citizens should ask if a lawyer charges by the hour or a flat fee.
Work With an Experienced Local Consumer Protection Lawyer
Do not wait to take action if you feel a company or business owner violated your consumer rights. Time is of the essence, and you do not have to become a victim or a statistic.
Submit a request online or call us today at 866-345-6784 to get in touch with an experienced lawyer in your area!